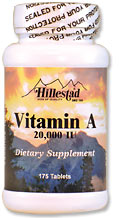 Vitamin A 20,000 IU
Item Number: 1215



Vitamin A is important for growth and development, and may help promote eye, immune system and cell health.* Hillestad's new Vitamin A tablet provides 20,000 IU natural source Vitamin A, a natural source of Beta-Carotene, and 250 mg of Carrot Flour. Each tablet is scored so that it can easily be split in half for a 10,000 IU option.



Serving Size
1 Tablet
Servings per container
175 Servings
Suggested Use
Take one tablet per day as a dietary supplement.