Life is better with Summit Gold®
A Multi-Vitamin, Multi-Mineral (Plus SeaPlex™) Dietary Supplement The finest method of guaranteeing top quality nutrients in a balanced and complete formulation as part of your daily diet.
Why Summit Gold®
...
The answer is we don't eat right!
We eat by choice
We eat what looks good, smells good, and tastes good
Many meals don't consist of complete nutrition
Fast foods are very popular
Many foods are over-processed
Summit Gold® provides:
Complete supplement
Balanced formula
Natural sources
Sea vegetation based
Exclusive layered tablet.
Superior Natural Sources
The Sources for the ingredients of Summit Gold® are extremely important to Hillestad®, and we feel they are of prime importance to you, our customer. Scientists have never been able to exactly duplicate nature, so Hillestad® uses natural food sources for vitamins and minerals. For example, rose hips and acerola cherries, pure vegetable oils, citrus bioflavenoids, molasses culture, fish oils stabilized to eliminate odor and aftertaste, calcium, sea vegetation, etc., all in a natural base of SeaPlex™.
Research is an everyday routine at Hillestad® Pharmaceuticals, assuring you that the very latest in nutritional findings are incorporated into the Summit Gold® formula. Specialization and quality control are the keys to producing superior products, and our laboratories have specialized in dietary supplements since 1959.
A Base of SeaPlex™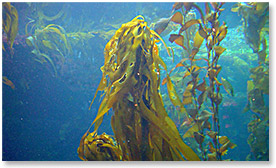 Hillestad's® Summit Gold® has a base of SeaPlex™, which is the trademark of an exclusive blend of sea vegetation containing an abundance of the mineral and trace elements found in sea water.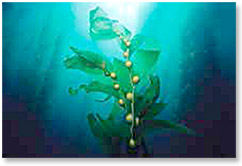 This special blend of sea plants convert all of the inorganic minerals found in the ocean into organic minerals, which are able to be utilized by the human body.
Some of the sea vegetation is regularly harvested by cutting off the tops of the plants about three to four feet below the water's surface. They are then brought ashore to be dehydrated by evaporation to preserve all of the mineral content. The dried cuttings are then ground into a fine meal, making an ideal base for Summit Gold®.
The sea vegetation grows back in a matter of weeks, untouched by chemical sprays and enriched by the natural nutrients of the ocean.
Exclusive Layered Tablet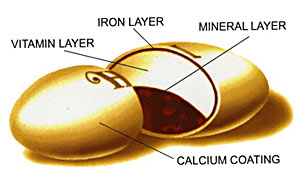 The unique construction of Hillestad's® Summit Gold® tablet insures the integrity of the nutrients and provides for the best possible assimilation.
Our laboratory reports that the layered tablet with our special coating protects sensitive core ingredients. This method of tablet construction requires expensive, specially designed machinery, which presses the two halves of the tablet simultaneously joining them together to make one.
One half of the tablet contains the vitamins in the SeaPlex™ base, the other half contains most of the minerals. The outer coating contains the remainder of the minerals. The tablets are polished with beeswax for ease of swallowing and a beautiful appearance. They are branded for protection.
Cut a tablet in two and see this unique construction for yourself.