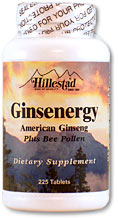 Ginsenergy
Item Number: 376



Hillestad's Ginsenergy is a combination of American ginseng, bee pollen and Vitamin E and helps maintain healthy levels of energy for people's active lifestyles.* Each tablet contains 30 IU of Vitamin E, 35 mg of Calcium, 350 mg of American Ginseng, and 100 mg of Bee Pollen.
Serving Size
2 Tablets
Servings per container
112 Servings

Suggested Use:
Take two tablets 1 - 3 times per day as a dietary supplement.