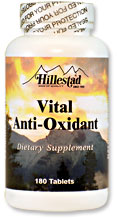 Vital Anti-Oxidant
Item Number: 275



Hillestad's most advanced antioxidant formula. This tablet features Vitamins A, C and E, trace elements Zinc, Selenium, Chromium, and Molybdenum plus CoQ10, Taurine, and Rutin. These nutrients are complemented with concentrated extracts of Turmeric Root, Green Tea and Ginkgo Biloba leaf.

180 Tablets

Supplement Facts
Serving Size
1 Tablet
Servings per container
180 Servings
Suggested Use
Take one tablet 1-3 times per day as a dietary supplement.